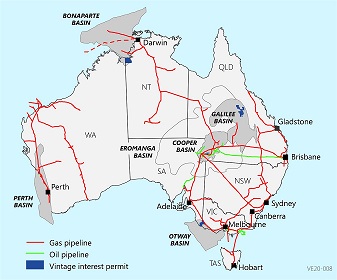 +
Our portfolio build strategy is to:
Take advantage of the Eastern Australian gas crisis
Unlock the potential of poorly explored parts of prospective onshore basins
Aim for early commercialisation on attractive terms, targeting assets that:

Are close to markets with proximity to pipelines
Allow us to build on our existing relationships with large utility companies
Can be developed quickly
Offer future commercial potential (e.g., for gas storage)

Secure low-cost frontier acreage with a proven petroleum system to provide high upside potential
The Cooper/Eromanga Basins, Otway Basin, Galilee Basin, Perth Basin and Bonaparte Basin acquisitions are significant steps towards achieving that strategy.
Cooper/Eromanga Basins
Vintage has a 50% interest and operatorship in ATP 2021 in the Queensland portion of the Cooper/Eromanga Basins, with Metgasco Ltd 25% and Bridgeport (Cooper Basin) Pty Ltd 25%. A recent gas discovery was made in the Vali prospect, with the Vali-1 ST1 well identifying gas pay and gas and oil shows at various intervals. This will result in follow up exploration and appraisal work in the permit and the development of the Vali Field.
Vintage will earn a 42.5% interest in PRL 211 (Metgasco Ltd 21.25%, Bridgeport (Cooper Basin) Pty Ltd 21.25% and Senex Energy Ltd 15%), a permit on the South Australian side of the Cooper/Eromanga Basins and adjacent to ATP 2021, by drilling a prospect called Odin. This prospect straddles the border of the two permits and is a 'look-a-like' to the Vali discovery.
Otway Basin
Vintage has 50% interest in PEL 155, onshore Otway Basin, with Otway Energy Pty Ltd holding 50% and operatorship. The Nangwarry-1 CO2 discovery was made in PEL 155 in early 2020, which is a high-quality CO2 discovery with near-term potential for commercial production and sales, and an MOU with Supagas Pty Ltd has been signed.
The Company has also signed a farm-in agreement with Somerton Energy Pty Ltd (wholly owned by Cooper Energy Ltd) whereby it has taken over operatorship of PEP 171 and is earning a 25% interest and can earn up to a 50% interest. The permit is located onshore in the Otway Basin and has strong gas exploration potential. The Victorian Government has recently announced a lifting of the onshore gas exploration and production moratorium on 1 July 2021 which will allow Vintage to actively pursue opportunities in this permit from that date.
Galilee Basin
Vintage has earned a 30% interest in the "Galilee Basin Deeps Joint Venture" to assess the Lake Galilee Sandstone reservoir sequence of the Galilee Basin (within permits ATP 743, ATP 744 and ATP 1015). Comet Ridge Ltd hold 70% and operatorship. Two wells have been drilled with Albany-1 flowing gas to surface at a rate of 230,000 scfd unstimulated.
The Albany-1 well was followed up by the Albany-2 well, a 7 kilometre step-out appraisal well, and a side-track of Albany-1 to further evaluate the Albany gas field.
Perth Basin
Vintage will earn a 30% interest in the Cervantes Prospect, with the other joint venture parties being Metgasco Ltd earning 30% and RCMA 40%. Cervantes is an oil prospect that sits within production licence L14 along the trend between the Hovea, Jingemia and Cliff Head oil discoveries.
Bonaparte Basin
Vintage has a 100% interest in EP 126, which is located onshore in the Bonaparte Basin, Northern Territory, and has executed binding Heads of Agreement with Firetail Energy Services Pty Ltd for it to become a joint venture partner in the EP126 permit. Under the terms of the agreement, Firetail will earn a 10% interest in EP126 through the provision of $850,000 of services for the testing of Cullen-1. EP 126 has strong gas and oil exploration potential.